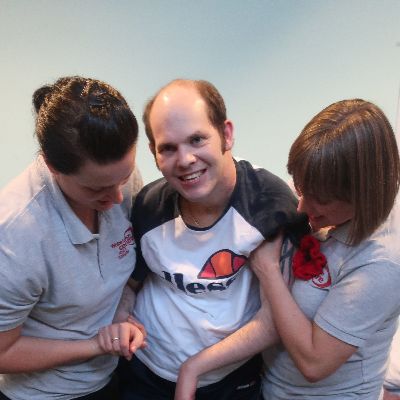 "A horrific car accident left me with brain damage and unable to walk. With help from White Lodge I'm proving the doctors wrong"
I'm one of four brothers and was lucky enough to be brought up in a happy family home. I didn't have the easiest start in life as I was born with a rare congenital defect where the upper oesophagus does not connect with the lower oesophagus and stomach, it's called Oesophageal Atresia. This meant I had an operation at birth, with many more following into my school years. However, with my loving family and good friends I got through these times and did as well as I could at school. As I grew older life started to go really well for me, I loved roller skating, golf and computer gaming and going on great family holidays. I eventually found a career with a local print firm and then got myself a car and began working in IT at Hewlett Packard. Life was good and I was really content, especially in light of my earlier challenges.
Then my life took a devastating turn. In October 2007 on an icy autumnal morning I took my usual route to work, as I entered a fast bend I sadly lost control of my car and span into an oncoming lorry. I can't remember a thing but somehow I survived. However, the violent side to side wrenching of my head cause irreparable brain damage. I was only 25.
My family were told that I would remain in a vegetative state for the rest of my life
I spent the next two months in a semi-induced coma and the information given to my parents must have been terrifying for them. I was later transferred to the Royal Hospital for Neuro Disability in Putney where I remained for five years. Despite my permanent brain damage, parts of my brain started to slowly come back to life. I became aware of the world around me but frustratingly I couldn't move, I only had use of my right arm and I couldn't even talk. What I really wanted, was to go home my parents set about modifying the family home to make it more practical for me and also arranged a live in carer for me.
Then my Mum came across White Lodge. In our part of the country there is no therapeutic support for adults with brain injury other than White Lodge. I started visiting Rendezvous, their Adults Hub and it has been the best thing that ever happened to me. In that time I've had massage, hydrotherapy and gentle exercise of all my limbs. From not being able to move, talk or stand I have made unbelievable improvement. Yes, the progress has been slow but my physio, Sarah and her team have been so kind, funny and encouraging. They get me in the right mood to try new things and test my limits.
It's taken nearly six years but on 1st October 2018 I did what my Doctors said I would never do...
I stood for the first time, not with the aid of the usual standing frame but with the help of a person either side! It was amazing and I felt so happy. Not only that, I can now talk a few words and can spell out words using my hand. Even though it's broken, my brain is still amazing and what I have never lost, is the ability to smile – I love getting a reaction out of people. They have been my saviour and have given me a chance. I'm convinced that without Sarah and her team I would still be back where I was. They kept pushing me to get better and the social element of my visits is so good for me. I just wish more people knew about this amazing place and I hope that by telling my story, more people who are in the same unfortunate circumstances as me, can benefit.
My Mum is so grateful for everything White Lodge has done for me and the family.
It was obviously so devastating at the time. Stewart had enough challenges when he was a child and just when his life was moving on nicely, this terrible accident happened. From that moment our life took a different path. However, the support of our friends and family has been remarkable over the years we became carers and medical experts, learning terminology that meant nothing before. Then there have been the battles with social services and the fight to get his care funded. It continues to be a challenge and we have been astonished at the lack of care provision out in the community. Without White Lodge we would be on our own. There have been many times when I just wanted to cry but Stewart's lovable spirit has never died and he keeps us going through his positive attitude. Like all of the family I am so proud of Stew and so grateful to his live in carers who have become adopted family members, and the team at White Lodge– they are all extraordinary.