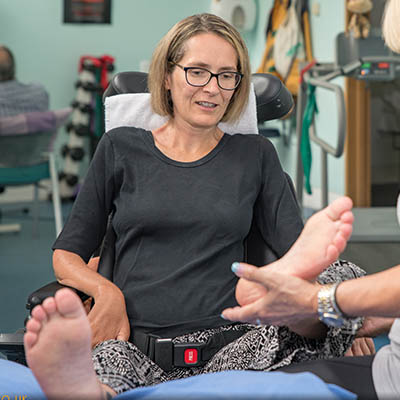 Remote consultations available
During these challenging times our priority is to protect you, your family and our staff. Therefore, the way we continue to work has changed, we remain committed to continue to support anyone who needs us during these exceptional times and endeavour to ensure that therapy provision continues where possible.
We are now able to offer appointments through remote consultation, either via email, phone or video calling, or a combination of these methods.
If you are hesitating about having a video session - don't. Sarah showed me exercises that I could do on both my arms and legs from my wheelchair and followed up by emailing me videos of the various exercises so that I could do them by myself on a daily basis. They are really helpful and beneficial (Ron, Physio & Fitness Service User May 2020)
Find out more HERE
Our specialised neurological physiotherapy and fitness team at White Lodge offer a range of services to people with neurological conditions such as cerebral palsy, brain & spinal injuries, parkinsons, multiple sclerosis, muscular dystrophies and strokes. We are all here for you still during this crisis so please get in touch as we would love to assist you.

Our Services (this is our full service offering once normal business can resume safely)
Following a comprehensive assessment with one of the team, we provide you with an individually tailored programme which may include 1:1 physiotherapy, group exercise and independent exercise sessions using our specialist exercise bikes, and/or hydrotherapy.
Physiotherapy
Exercise sessions
MOTOmed exercise bikes
Hydrotherapy
Group exercise classes
We enable you to optimise your physical function and ability
Whatever your current ability or fitness level, we are here to provide treatment to maximise your potential. This is achieved through maintaining or improving your range of movement, strength, flexibility, balance, coordination, fitness and function within daily activities which will increase your confidence in your abilities. We have specialist knowledge and can provide advice and support in posture management including seating and wheelchairs, orthotics and splints, functional electrical stimulation (FES) and neuromuscular electrical stimulation (NMES).