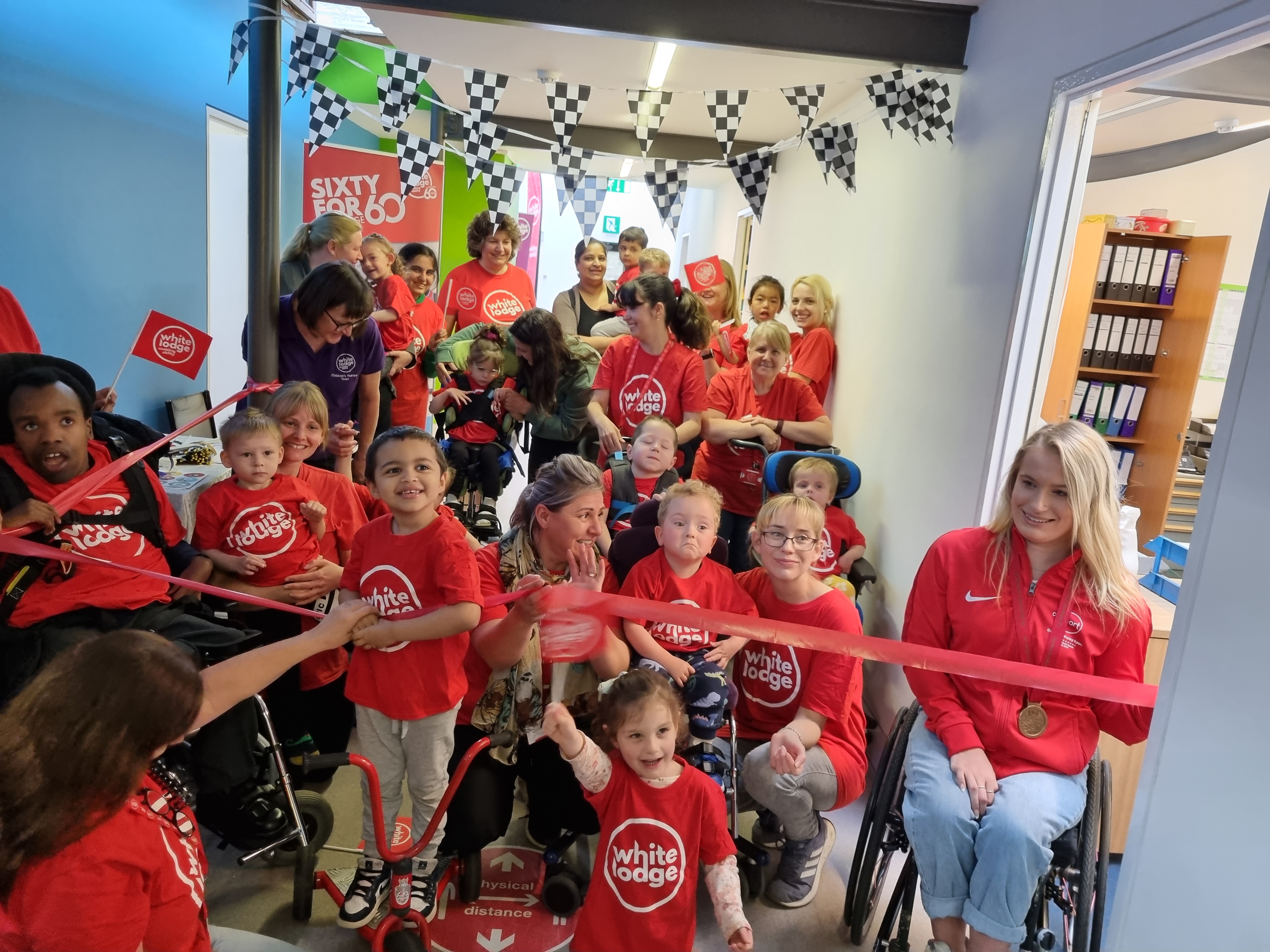 An extra special mini marathon for our little super heros
11 May 2022
Children from our specialist pre-school nursery took part in our very own annual Mini- Marathons this week. The events were extra special as due to the pandemic we haven't been able to hold any for the past two years and this year White Lodge turns 60 so we celebrated in style!
This amazing event was used as the launchpad for our 60th appeal "Sixty for 60" where anyone can support us by doing 60 of anything and getting sponsorship.
The children get to showcase the amazing progress that they making physically and emotionally as they complete laps of our purpose-built building. Whether they run, use their walkers and wheelchairs or are pushed, they are cheered along all the way by parents, White Lodge staff and supporters. This event has been running for over twenty years and we had two members who used to come to our nursery as toddlers and do the marathons return to give the children encouragement. Dominic now attends our adult centre and Olivia Gallagher who launched the event and handed out certificates. She has led a successful career in wheelchair racing and represented England at the cerebral palsy World Games and was awarded the Young Sports Person of the year at the Pride of awards in 2018.
Two of our marathon runners also joined in to support the childen in their special challenges.
It's a great celebration of the important work that our nursery provides and also gives the children a chance to become superstars for the day and be proud.
Mike Hey, Head of Fundraising and Marketing said
"The children here are so inspiring and their spirit typifies everything about White Lodge. Just seeing the smiles on the children's faces and how proud they all were was so rewarding. With so very few services like this in the area it's essential that we continually raise awareness and funds to keep White Lodge running. We will definitely need to be here for another 60 years!"
A huge thank you to everyone who took part, we all look forward to seeing you all again next year.
I'd encourage EVERYONE to join White Lodge at Superhero tri this year
28 Apr 2022
Hannah is one of our fabulous Ambassadors and is a powerchair user following an injury playing netball aged just 14. She has Complex Regional Pain Syndrome and secondary illnesses and complications.Hannah has been coming to White Lodge for over eight years, twice every week for hydro and physio and fitness.
This is a rallly call from Hannah for YOU to get involved in the amazing and truly inspiring SuperHero tri this year on August 20th. Hannah has put together a blog so please read and get inspired!
"Five years ago, I participated in the first ever Superhero Tri and have now taen part in three live events as for two years it coudlnt happen due to Covid. Its an accessible triathlon, where 'anything goes' and you get to be a superhero for the day! Floats, canoes, inflatables, flippers etc; handcycles, trikes etc and manual wheelchairs, powerchair, walking frames, blades etc are all allowed. There are no restrictions on aids you are allowed to use or what illness/disability you have to whether you fit the criteria. You do not need a classification or have a time limit. It is about inclusion. Participation and having fun, however if you want to take it seriously and competitively you can too! It was an amazing day and experience"
Read More.......https://www.whitelodgecentre.co.uk/download_file/view/1698/361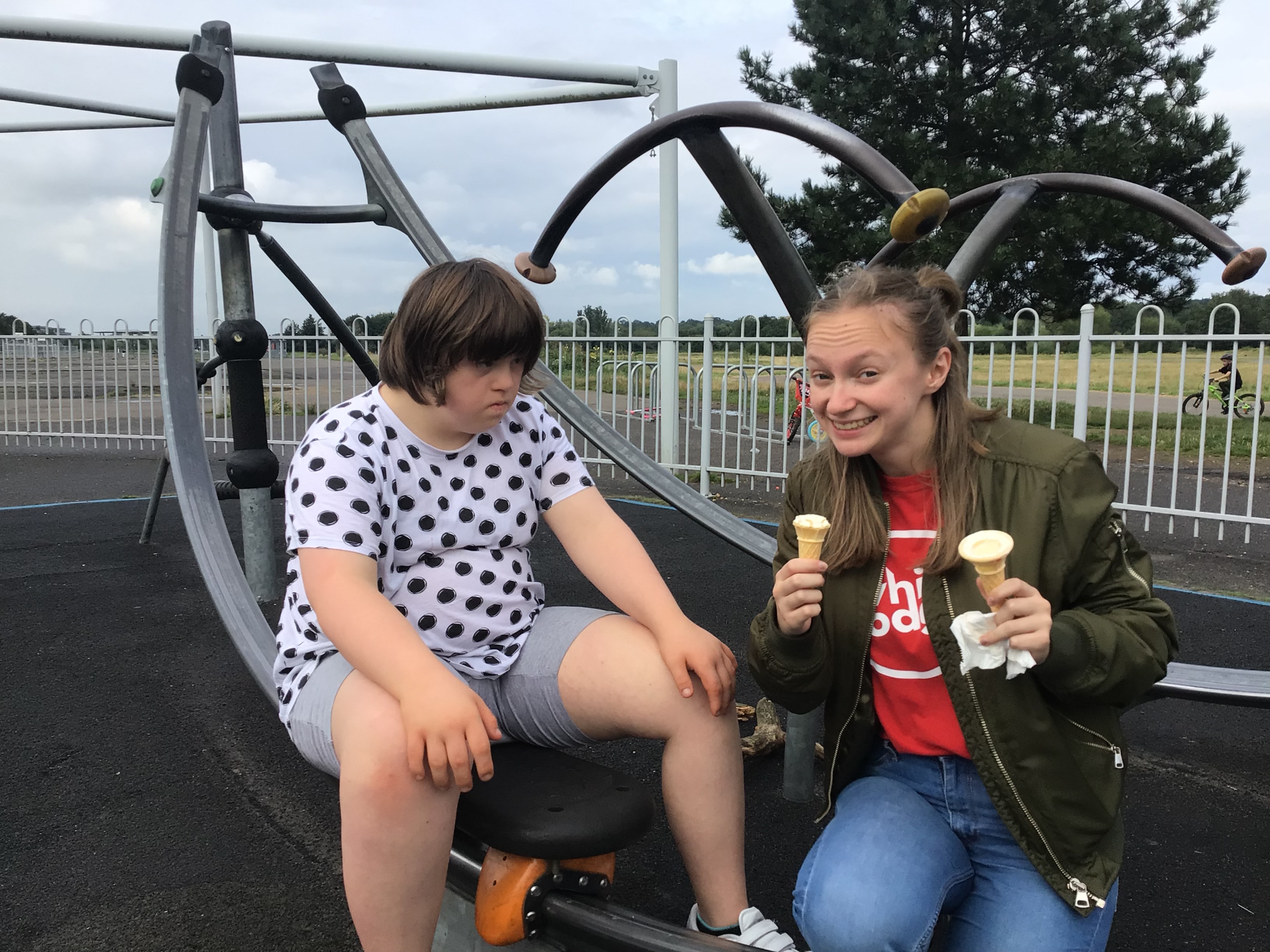 My role as a Support Worker at Treetops is so rewarding
16 Mar 2022
Serena is one of our Support Workers at Treetops (our short breaks centre that provides respite care). She is helping us to spread the word about how Treetops is such a fun, diverse and rewarding place to work.
We are recruiting for a range of positions at Treetops, so your next amazing opportunity could just be a click away:
We asked Serena (pictured) a few questions:
What is your role and how long have you worked at Treetops?
I've been working as a Treetops Support Worker for nearly 2 years.
Why did you apply to work at Treetops?
Towards the end of lockdown I was made redundant and decided that I needed to take a new direction for my career going forward. I have always loved being around children so White Lodge looked like a great place to work.
What is the most rewarding part of your job?
Seeing the kids succeed and achieve their goals as a result of my hard work.
Do you have a favourite memory during your time here? (such as a shift where you had a real positive experience with one of our young people)
Many of the young people accessing Treetops can't communicate verbally - and on a few occasions I have heard them say "hello", start to sing or use other communication methods for the first time!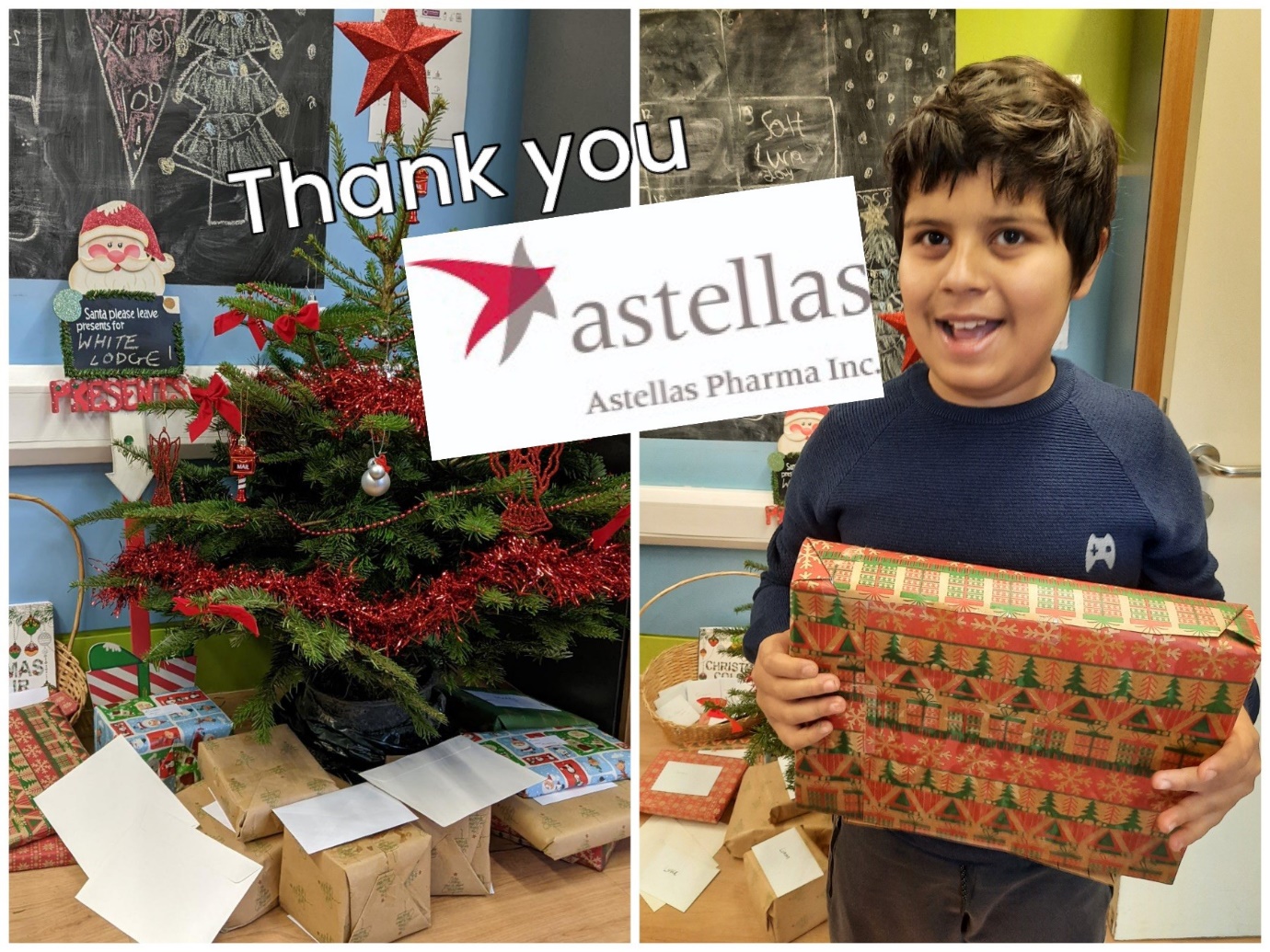 A HUGE thank you to Astellas
13 Jan 2022
Astellas have very kindly supported us over the last few years and this Christmas they made it extra special for White Lodge.
Over the years employees have very generousily fundraised and volunteered for us. Due to the pandemic this hasn't been possible BUT they managed to do two amazing things for us.
Firstly, the Astellas 'elves' got to work by gifting presents to the children that use our services. The children were sp happy and delighted and really appreciated their lovely gifts.
Secondly, they decided to donate the money that would have been spent on the Christmas party (which did not go ahead due to COVID). This provided us with a much-needed donation of £20,000. This is such a awesome amount of money and will do so much good as we head into 2022. Many of our critcal services are running at a deficit and demand is higher than ever, so this funding will make a huge imapct on peoples lives.
Mike Hey, Head of Fundraising and Marketing said,
"The team at Astellas have always been so incredibly generous and we were bowled over by the donation. These last two years have been such a challenge for everyone but for disabled children, adults and their families the impact of isolation has been enormous. This incredible donation will make a huge difference to our frontline services and we want to say a huge thank you to everyone at Astellas."
THANK YOU ASTELLAS FROM EVERYONE AT WHITE LODGE!!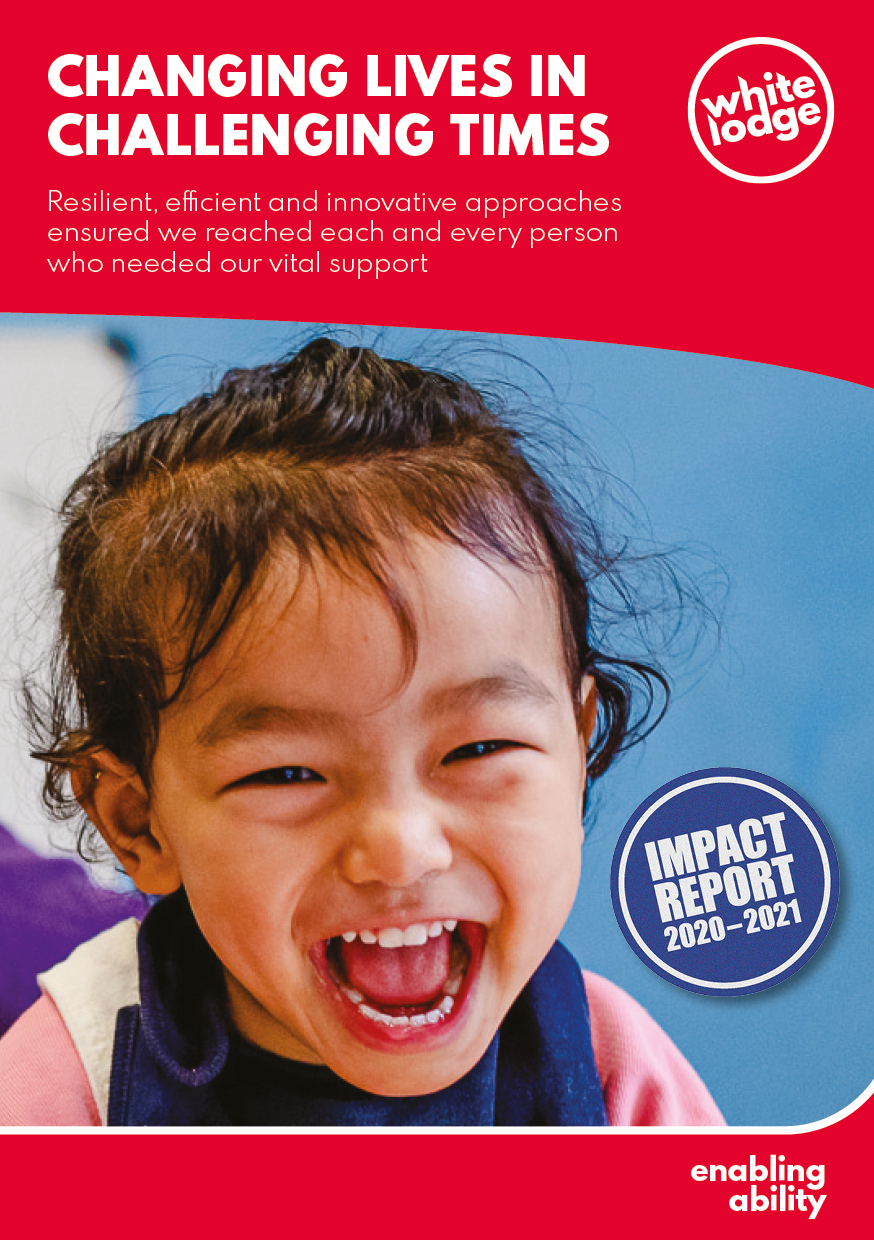 Changing lives in challenging times - our Impact Report 2020-2021
19 Oct 2021
We are pleased to be able to share our Impact Report with you all.
The last year has been very challenging for all of us but for people living with disabilities they are no stranger to the kind of exclusion that the pandemic created. Many of us came face to face with feelings of isolation from normal life, but for people with disabilities, this sense of isolation and detachment from "normal" life isn't a temporary phase - these are the challenges they face each and every day. At White Lodge we recognised this more than ever and devised resilient, efficient and innovative solutions to ensure we reached each and every person who needed our vital support.
We are very proud of the agility and resilience of our staff and volunteers, who worked tirelessly to ensure that we continued to meet the needs of everyone using our services. These achievements are captured in this report and encapsulate our successes despite the mounting challenges we faced.
We hope you enjoy looking at our Impact Report where you will see first-hand how White Lodge continues to change lives. Please do continue to support us going forward, we are needed more than ever.
Thankyou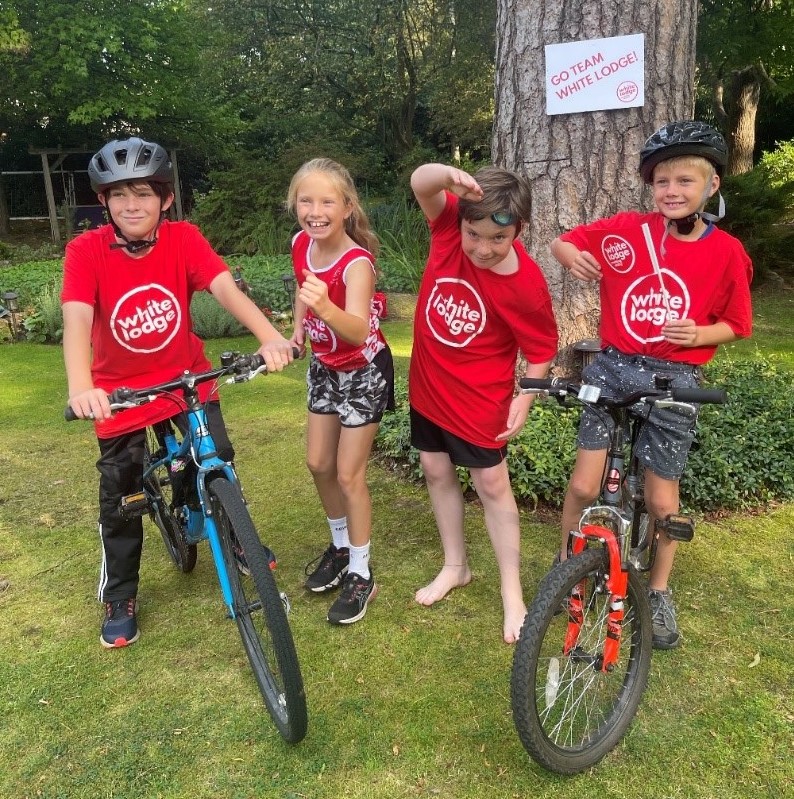 Can you help these four amazing kids get us a much needed new kitchen at Treetops??
14 Oct 2021
Four Surrey superstars are taking on the challenge of an Olympic Triathlon to raise vital funds for a new "all-ability" kitchen at Treetops (our purpose-built facility which provides respite care for disabled children up to the age of 18).
Our specialist kitchen is well used and loved by all the children who attend Treetops. Cooking and baking is such great life skills for the children to learn as well as social and fun. And we all benefit from some of the yummy goods that are created there.
But it was fitted over 15 years ago and is looking worn and tired and is in much need of some investment and modernisation. Luckily for us four superheros have stepped up to the challenge!
When our four superstars Ciara, Angus, Cian, and Robert heard about the plight of our "all-ability" kitchen they formed an alliance to take on the challenge of completing an Olympic Triathlon. The vital funds they raise will provide us with a new kitchen (heavily discounted by the suppliers John Nicholls of Banbury) and provide an adaptable, safe, and clean environment, ensuring that all health and safety requirements are up to Ofsted standards in future.
The Triathlon takes place on 26 October 2021 at 10.00 am at Windsor Great Park.
Please show your support by donating to help them reach their target and come along on the day to cheer them on (meet at Fox and Hounds near Bishopsgate School).
GOOD LUCK FROM US ALL AT WHITE LODGE!
A warm welcome to our new CEO Lesleigh Bounds
22 Sep 2021
We're delighted to announce that experienced charity leader Lesleigh Bounds is White Lodge's new Chief Executive, and took up the role in July 2021. 
Lesleigh joined White Lodge after seven years as the Director of Strategic Operations for SPEAR London, a Homelessness and Housing Charity for young people and adults in South West London. She has worked in the voluntary sector since 2007, creating services that meet people's needs and supporting people to bring about positive change in their lives. Prior to this Lesleigh worked for local authorities at a county and borough level for over a decade, where she led on the commissioning of social care services for families, children and adults.
Lesleigh is specialised in leading organisations to punch above their weight, she has a strong track record in organisational development, frontline delivery and advocating for change. She is passionate about bringing the voices of people experiencing disadvantage and Inequality to the forefront of debate and service delivery. She has successfully delivered a number of high-profile and ambitious, central government programmes and is vastly experienced in capacity building and organisational development, creating service user led business models, retaining projects and contracts in challenging funding environments, organisational change management and modernisation programmes.   
Next year, White Lodge will be celebrating 60 years of supporting children, young people and adults with disabilities so it's an exciting time to welcome Lesleigh's energy, passion and expertise to the organisation.  
Steve Carrodus, Chair of Trustees at White Lodge, said: 
"Everyone at White Lodge is delighted that Lesleigh has joined at this exciting time for the charity. She brings a wealth of leadership experience from her previous charity and social care roles. She will be a valuable asset for White Lodge as we build on our successes to date and begin to create our ambitious new strategic plan to continue supporting our beneficiaries."  
Lesleigh said: 
"I'm delighted to have joined the fantastic team at White Lodge, as we look to the future and starting thinking about post pandemic planning to meet the needs of the children, adults and families that use White Lodge services, and look forward to creating an exciting new strategy next year." 
Then there was silence
10 Sep 2021
White Lodge is a proud partner of The Disabled Children's Partnership (DCP), a major coalition of more than 90 organisations campaigning for improved health and social care for disabled children, young people and their families.
Over the past few month's the DCP has been compiling a survey to highlight the full impact of the pandemic on dosabled children and their families. This comprehensive research project has been led by Dr Cath Lunt and today it's findings have been published.
The new report named Then There Was Silence (published 10 September 2021) brings this survey research together with new analysis and an evaluation of how the voluntary sector responded to the meet the needs of children and families. It draws on the experiences of countless families, through surveys and interviews, as well as information obtained through Freedom of Information requests and other research.
Key findings in the report are that –
Children and families have been isolated and abandoned; and not been listened to.
Covid restrictions meant services were stopped or reduced; and many are still slow to return.
Mental health and wellbeing of all the family has deteriorated.
Children's conditions have worsened and needs become more complex; delays in assessments mean needs haven't been identified.
The charity sector demonstrates agility and flexibility and was able to extend its reach to help support families.
As a result of the findings, the DCP has identified five vital steps for central government, local government and the NHS.
Prioritise the needs of disabled children and their families within covid recovery plans and programmes.
Tackle the backlog in assessments and ensure that children's needs are re-assessed in light of missed support during the pandemic.
Ensure the right support is in place for all children and families, including education, health (including mental health), therapies and equipment.
Take a whole family approach to assessments and support, including siblings. This should include the provision of respite/short breaks and opportunities for families to take part in activities to overcome the isolation felt by so many.
Invest in disabled children's health and care services through the Comprehensive Spending Review.
One beacon of light in the report is how the voluntary sector, including White Lodge, responded and adapted to meet the needs of disabled children and their families. As well as making recommendations for government and the NHS, the report identifies key characteristics of successful approaches by charities, and sets out recommended steps for charities, for funders and for the Disabled Children's Partnership.
You can read the full report here
To read more about the work of the Disabled Children's Coalition please visit their website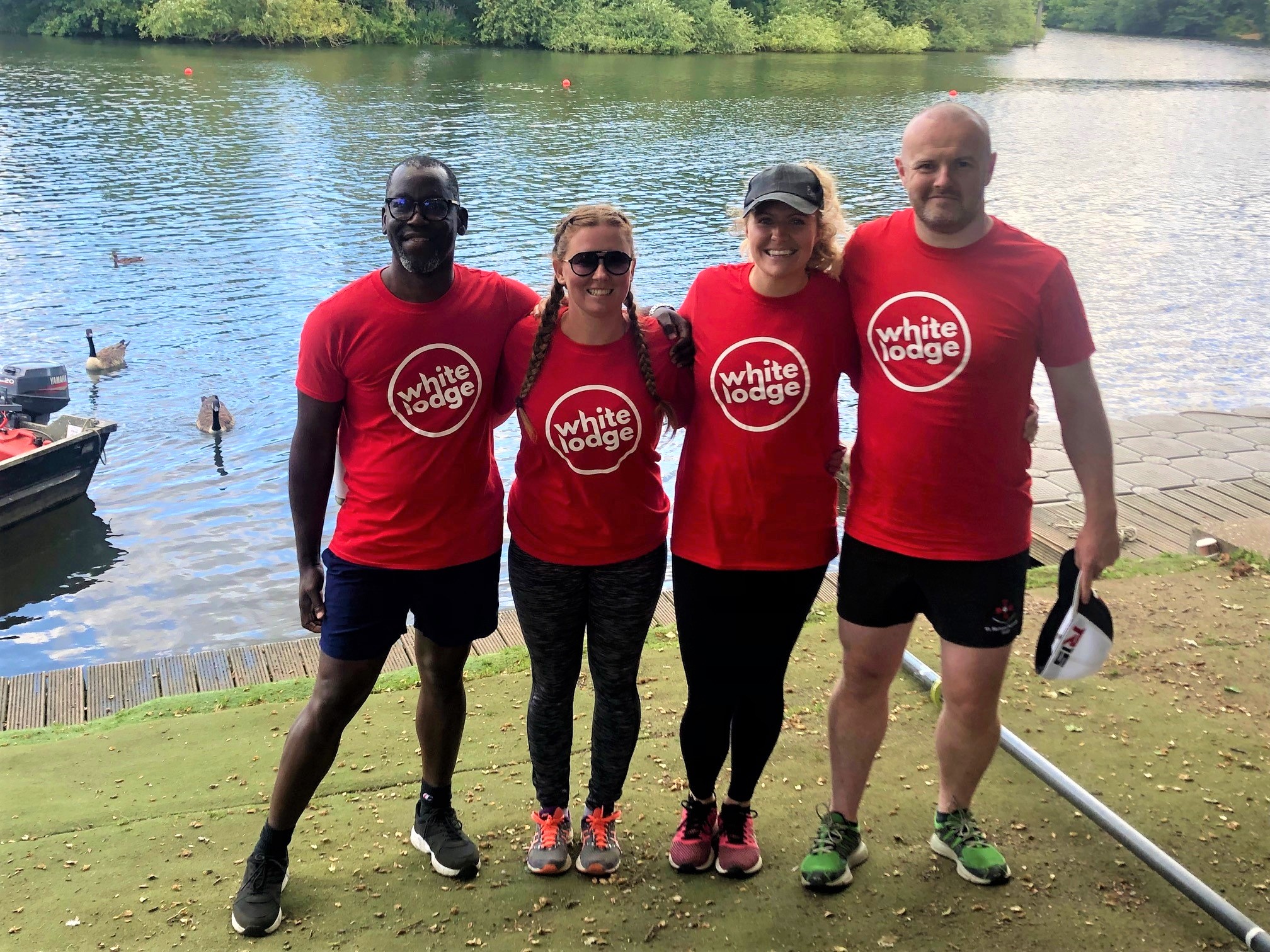 An OARsome effort from Team Jubilee High!
11 Aug 2021
Jubilee High School in Addlestone entered a coxed four into the brilliant Weybridge Community Regatta.
The regatta is organised by Weybridge Rowing Club, along the beautiful stretch of the River Thames between Walton and Weybridge. The Regatta has been created as a community initiative to give local businesses an opportunity to meet, network and compete in a sporting environment. Following the very challenging couple of years that we have all had it was so nice to be involved in a community event again.
The Jubilee High boat was generously sponsored by CHEP, a global company who are based on the Bourne Business Park in Weybridge. They have been loyal supporters of White Lodge for many years and this was a nice opportunity to link up Jubilee High with White Lodge.
And what a team they were! The Jubilee High team won the mixed team time trial and in the off the water ergo challenge they came first with team Captain Amy Beard winning the best individual prize.
Well done Team Jubilee High, we look foarward to working with you in the new School year, and thank you CHEP for your continued and unwavering support.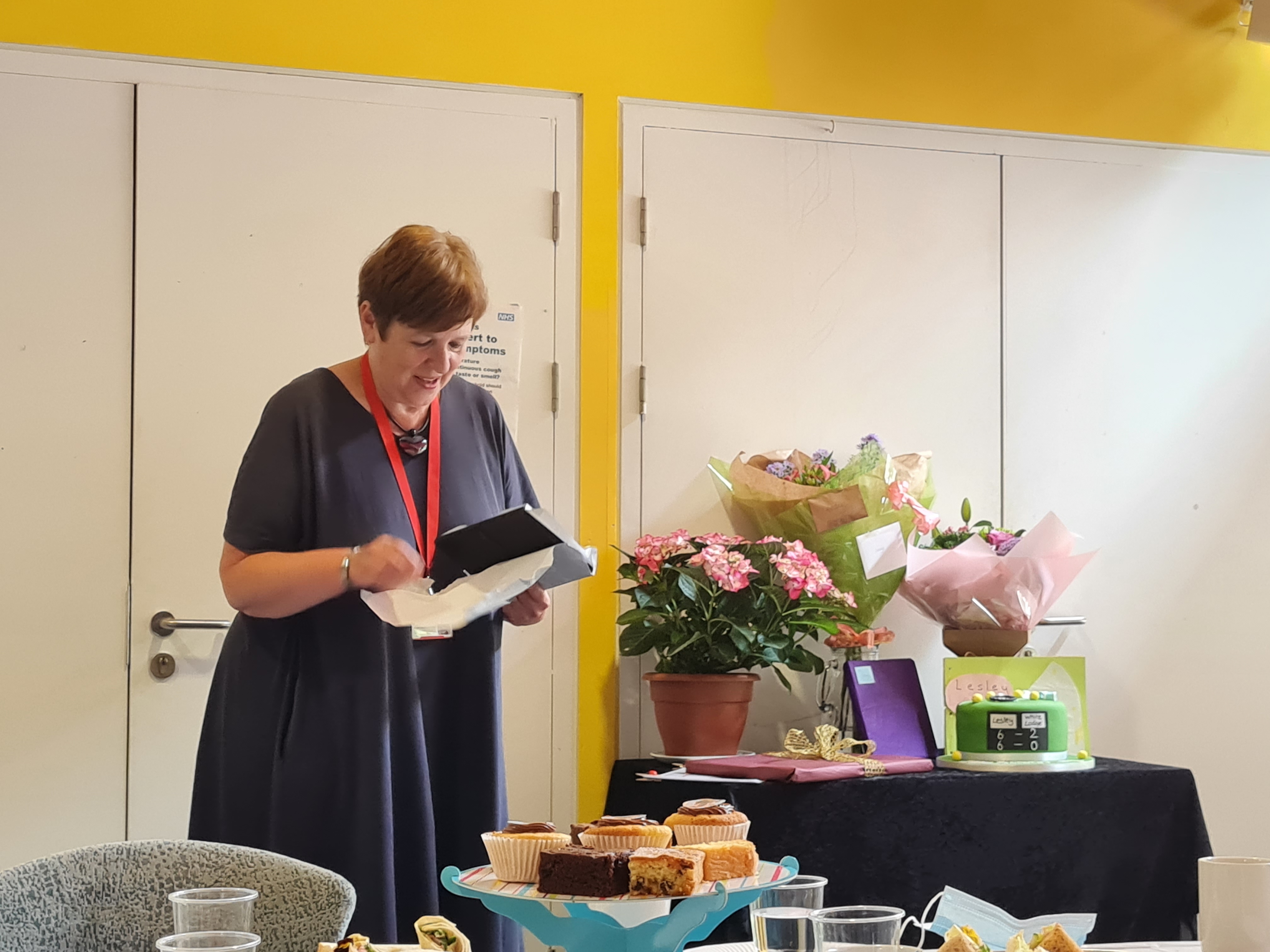 A fond farewell to Lesley
12 Jul 2021
Last week we said a fond farewell to Lesley Robbins who is retiring. She has been our CEO for over twelve years and overseen a significant transformation of our much loved charity. She was very well respected and liked by everyone who worked with her and the children and adults who come to White Lodge will really miss her.
She has been pivotal in ensuring continuity in services to the highest possible standard and adapting and creating new services to meet a continual change in needs and demand. Her strength and bold decision making was pivotal during the pandemic where she worked tirelessly to ensure we could support people where possible and all this during a national crisis.
"Lesley has been a formidable CEO and has so many great qualities. An amazing and strong leader who led with conviction. Lesley was always fair, very experienced, supported and cared for everyone and shared her wisdom with us all. It was a pleasure working alongside her and I wish her an enjoyable and relaxing retirement."
Mike Hey, Head of Fundraising and Marketing
"White Lodge has been an enormous part of my life. It's not just the building its the staff, volunteers, service users and supporters. You are all the soul of White Lodge and have been so important to me. White Lodge has touched every part of my life and I will miss it all terribly. But this is a new chapter for everybody and an exciting future lies ahead."
Lesley Robbins
"It has been a privileged working with Lesley. Her can-do attitude is simply admirable, especially during the pandemic where very bold and brave decisions were needed. She has earnt the right to retire and put her feet up and I wish her every happiness for the future."
Steve Carrodus, Chair of Trustee Board
Her leadership has been fundamental in keeping us sustainable and we are well placed to continue providing services of the highest standard long into the future thanks to her.
Good luck Lesley!!!!
Having MS didn't mean I was going to fall apart, there was still a life to live
21 Apr 2021
We spoke to the courgaeous Stewie about his story and life now with MS
Tell us about your childhood Stewie?
I was born in May 1975 and grew up with my two older brothers. When I was a schoolboy. I was a cheekie, happy-go-lucky kid just, like I am now, and I loved being out and about. I also loved playing Rugby and other team sports where I could get stuck in, especially Murder Ball! When I was 15 I joined the local Army Cadets and it introduced me to activities and a discipline that I really enjoyed.
Tell us about your life in the Army?
When I was old enough I signed up to be an Army Reservist and I loved it. As everyone knows, I do like a bit of banter and the social element and teamworking really appealed to me. I thrived in the army exercises and getting muddy whilst also shooting rifles and donning the war paint.
When the opportunity came I made the 'Army life' my fulltime occupation and my first posting was with the Explosive Ordance Disposal (EOD)Unit. My friends thought I was crazy but the training and camerarderie was brilliant. I spent nine years in that unit based at Aldershot before I joined the Transport Regiment in 2000. Whilst I never served aboard in conflict we were a vital cog in the British Military and the team work and responsibility was a great experience. I've got many great memories which will last forever, including many laughs and practical jokes - many which I was responsible for!
What about your marriage and children?
I'm very lucky to have four very healthy and loving children with my then long time partner. After our second children we decided to get married and we had two more. Having a busy house like that is always stressful and our marriage was showing signs of strain. During that time, the pressure of family life meant that I had to find a new profession. I used my logistics training to work for Saint's Transport which was then contracted to DHL.
Then you life took a dramatic twist, tell us more?
During my period of time with DHL I started having health issues which specifically affected my balance. I didn't think too much of it at the time and put it down to tiredness but my Mum started to get concerned and made me go and see the doctor. After an initial consultation I was referred to have further investigations. What followed were CT scans, MRI scans, a lumber puncture and the results left me sickened. It was 2012 and I was diagnosed with Multiple Sclerosis (MS). From that moment I had to stop driving so on medical grounds I had to give up my job and I was discharged from the Army, the love of my life. It was really hard to take and what made it worse, I was going through a difficult divorce. My Mum and my children saved me with lots of love and support and after being referred to the Bradley Unit at Woking Community Hospital I was able to get my head together. The Bradley Unit specialises in neuro rehabilitation and they helped manage my expectations and were able to provide treatment and advice. The Occupational Therapists (OTs) also helped in modifying my house to make life easier for me in the future.
What About White Lodge?
During that time, a phyiotherapist at the Bradley Unit mentioned that I should consider going to White Lodge. I'd never heard of it before then but the referral was inspired. My condition was worsening but in 2015 I made contact with the White Lodge team and from the moment I was invited for an assessment the Adult Therapies team changed my life. They made me feel so welcomed. They introduced me to group therapy with other MS sufferers and also personal 1-2-1 therapy.
My legs sadly don't support me anymore so I'm now wheelchair bound. However, I can still cycle using my legs and my arms using their fantastic specialised gym equipment. The team always give me something to work towards and for someone like me, and my Army background, I need objectives to keep me motivated. The best thing has been training for the Super Hero Tri which is an empowering team triathlon for people of all abilities. I was so proud to take part in the inaugural event and I had a fantastic team of able-bodied people around me to get me through it. I was able to cycle 5 Km on a specially adapted tandem bike and I propelled my wheelchair through the run element. It was an exhilarating experience and I did it again in 2018, raising a nice amount of money for White Lodge Centre. Also being the clown I am, I loved wearing my jesters hat all the way round!
The thing that also makes White Lodge so special is the people. Not just the people that work there but also the other service users. It's such an inclusive place and everyone is on equal terms no matter what their ability is. I just love the banter I have and I enjoy trying to motivate my fellow sufferers. It's so easy to get down on yourself and at times the physiotherapy can be quite testing but I always like to raise morale and keep everyone going.
The Army taught me many things but one that will always live with me is, 'no matter how tough it is, you'll always find a way. I certainly won't let this horrible illness defeat me!
It's a shame there aren't more place like White Lodge but whilst I'm alive I'll do what I can to make the most of it and help raise awareness of the lifeline services that it provides.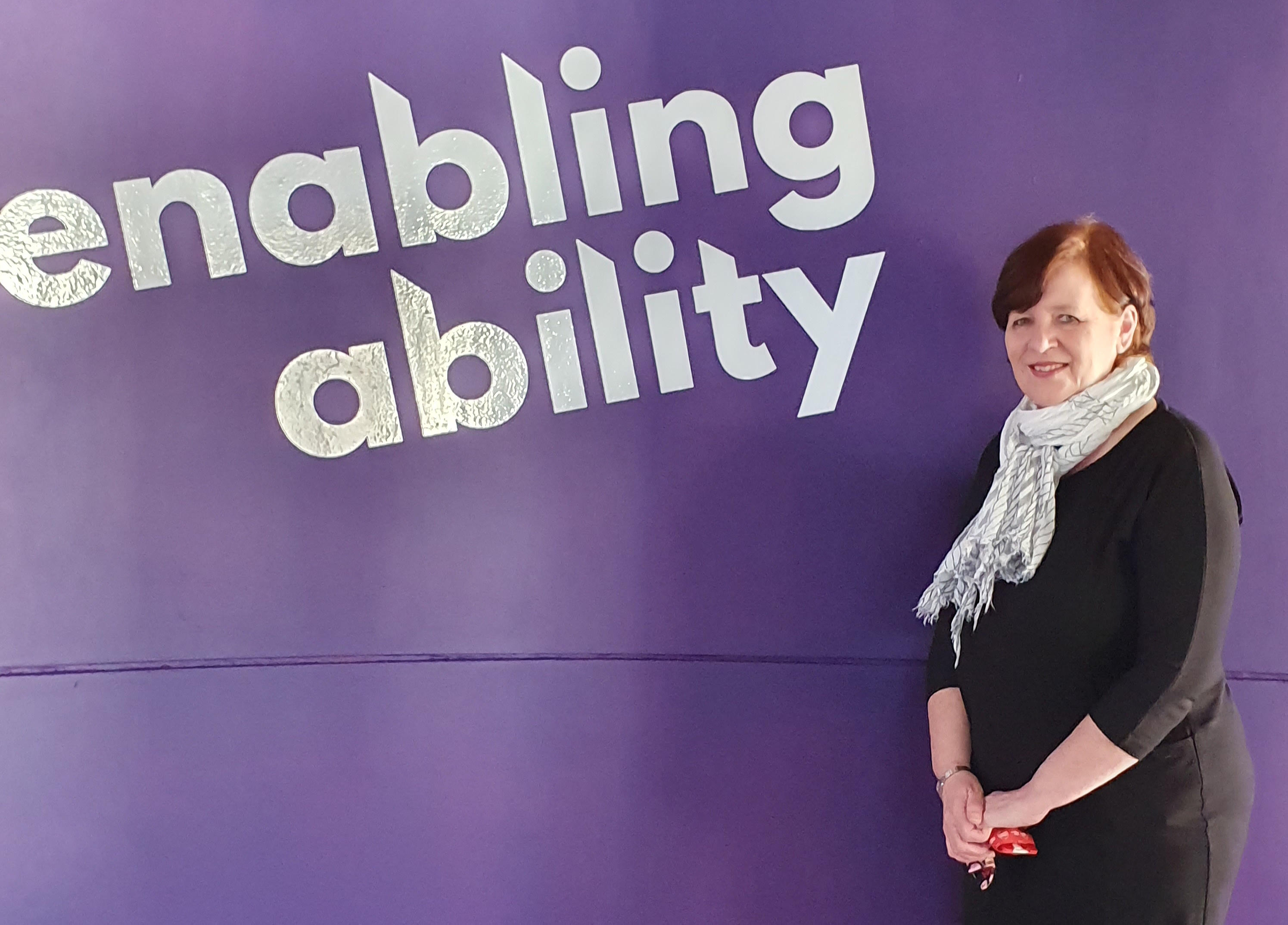 Retirement of Lesley Robbins
22 Mar 2021
As Chair of the Trustee board I am writing to regrettably announce that our Chief Executive Officer, Lesley Robbins, has decided to take retirement this year.
Lesley has been at White Lodge for over 12 years and has overseen a significant transformation of this much loved charity.
She has been pivotal in ensuring continuity in services to the highest possible standard and adapting and creating new services to meet a continual change in needs and demand. Her leadership has been fundamental in keeping White Lodge sustainable and well placed to continue providing services of the highest standard long into the future.
Lesley has kindly agreed to stay in post until we can recruit her successor which we anticipate being in the second half of this year. The staff, volunteers, supporters and the children, adults and families who we support will all be very sorry to see her leave. However, she will leave with our warmest gratitude and best wishes for a fulfilling and happy retirement.
Lesley has been instrumental in ensuring White Lodge's survival during the Covid pandemic and the new CEO will continue to lead us out of this situation with a strong provision in place and all services back in full operation.
If you would like to apply for this role please contact Harris Hill.
harrishill.co.uk/job/chief-executive-officer-37
With kind regards,
Steve Carrodus
Chair of Trustee Board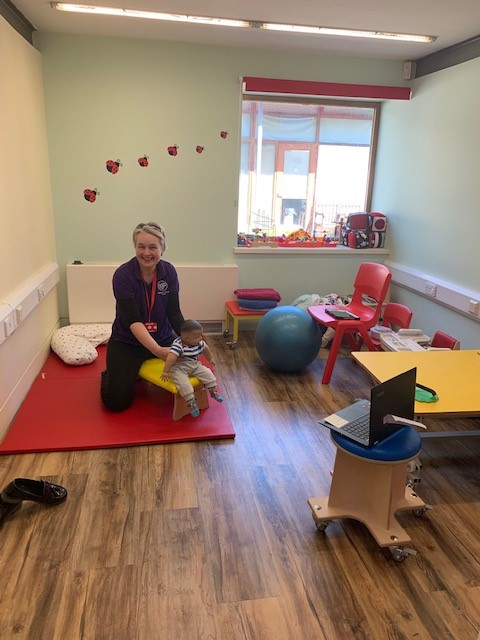 Delivering children's therapy has had its challenges, but still being able to support children and families has been vital
17 Mar 2021
Our Physiotherapist (Carolyn) and Emma (parent of Addie) talk about how life has been at White Lodge during the pandemic.
"This has been a challenging year, often very scary and upsetting. Especially for our families with vulnerable children and adults. The need for support, on-going therapy input, equipment, orthoses, etc was vital. It proved to be a totally different way of working for us as therapists as well . Not only dealing with the technology but also how to deliver the best service to our families."
Carolyn (White Lodge Physiotherapist)
This is an account of working with Addie aged 3 ½ years old and her Mum Emma. Addie has an elder sister who has had to shield. Emma talks about her experience of virtual child therapy.
"At first we contacted each other over the phone but soon realised that some things were very difficult to explain over a phone call. We set up work skype accounts which was new to us and Carolyn (Addies Physiotherapist). After setting it up which took time and did have us laughing – no picture then no sound, seeing only the ceiling or the floor and even having Addie switching us off. We finally managed. We did move from Skype to Zoom which proved better. Setting up a session was done via email or phone. It worked best if we had an agenda for our sessions. Carolyn would say what she wanted to work on which were very practical things such as how to enable Addie getting off the sofa independently which she could not do but has now achieved WELL DONE ADDIE!
We checked all her equipment - chairs, standing frame, and walker and her orthotics such as leg gaiters and DAFO's for her feet. Carolyn was simply brilliant. We did all this with play and making it fun. Addie is quite a determined girl and would not have joined in otherwise, she knows what she likes and doesn't like. This was all done via Zoom."
Emma Parent of Addie
"Emma said she looked forward to our sessions. She felt she was fully supported through this really tough time. Emma's handling and observational skill were certainly improved as she had to do it all. Emma also commented that it was nice to not be going to lots of appointments to various different places which did take some of the pressure off her. By the September we started to work face to face again with all Covid measures in place and full PPE. Emma wanted to come in with Addie then to get her out of the house and she felt reassured that when I also worked with Addie that all had gone well and she had done an excellent job. Addie was not at all put off by me wearing PPE, she thought it was fun.
It has certainly been a very difficult time for everyone but working virtually will certainly have its place in the future along side face to face working."
Carolyn (White Lodge Physiotherapist).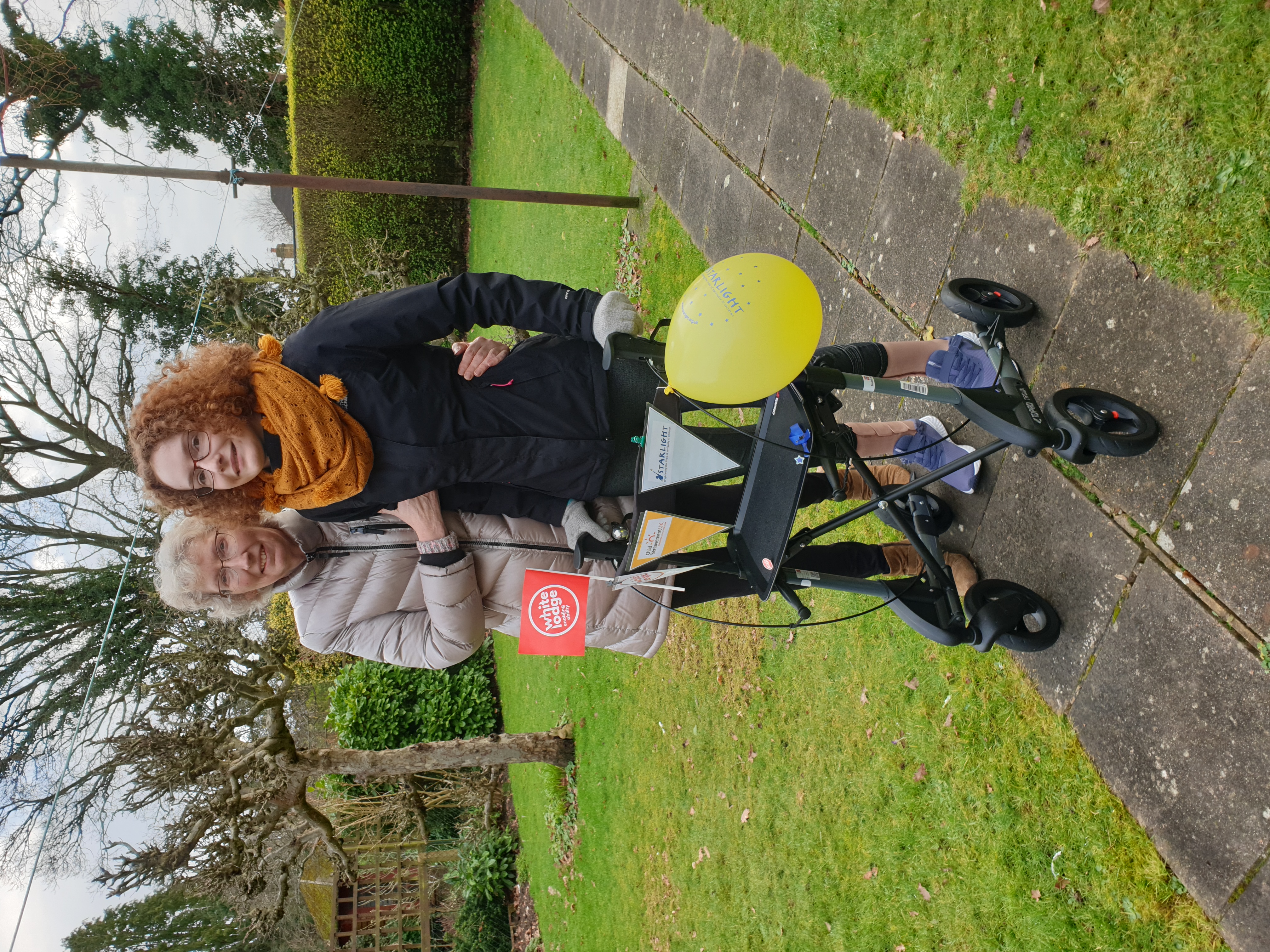 My special challenge
17 Feb 2021
"White Lodge have always been there for me, even during this pandemic. I'm Hannah, I am 29 and a powerchair user following an injury playing netball aged just 14. I have Complex Regional Pain Syndrome and secondary illnesses and complications. I have been coming to White Lodge for over eight years, twice every week for hydro and physio and fitness. White Lodge has been vital help for me, especially during these challenging times where they have continued to support individuals and families"
I am fundraising to support White Lodge and two other charities to celebrate my 30th birthday in February 2021 and in memory of my dear brother, Ben and celebrate his 35th birthday in November 2021.
I am asking family and friends to consider donating, instead of giving me a birthday gift. I know how much charities have suffered in the pandemic and would greatly benefit from this.
I am mainly a powerchair user. 2.5 years ago I took my first step in 13.5 years. I am aiming to walk a total of 30 lengths of my garden in stages, with my four wheeled walker, splints and the support of two people, before my 30th Birthday at the end of February (although it will probably be some point in March-as I am a bit over ambitious)!
I began this mission on 1st January 2021. So far, I have completed 16 out of 30 lengths. So I am over halfway.
Then, I am aiming to walk a total of 35 lengths of my garden in the 2 months before my brother's 35th birthday, on 25th November.
I have invited family and friends to get involved with their own 3530 challenge. It would be great to have you involved. You can make a difference! What could be your 3530 challenge?
If you would like to sponsor me or find out more about my challenge here is the link: https://uk.virginmoneygiving.com/SomeoneSpecial/BenHannah3530
Love Hannah x x #BenHannah3530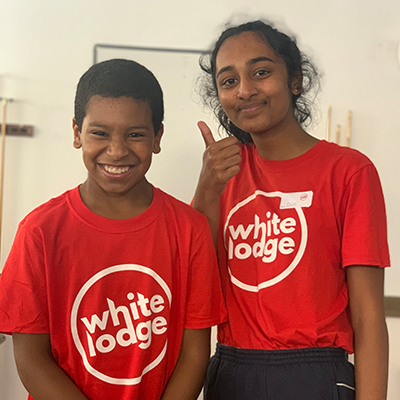 Play and Youth Clubs - Latest Update
05 Feb 2021
Here is the latest status on our Play and Youth Clubs.
February Half Term
We are pleased to announce that we can run in the half term.
Please also don't forget to purchase your childrens tshirts, lunch bag and bottles ORDER HERE
Runnymede is running with the capacity of 15 children at its usual venue and is now full.
TWINKS is running with the capacity of 8 children at its usual venue.
Please enquire about other availability.
May Half Term
Please wait for further updates.
After School Club
We are awaiting guidelines for schools to return and will be looking at starting again on the week of the 8th of March unless this date is changed by the Government.
Jets and Apollo
We are unfortunately unable to host these in February or March but will review at the end of March.
Saturday Club
We have availability. Please get in touch if interested.
Sunday Club
We will have an update on the Sunday Club ASAP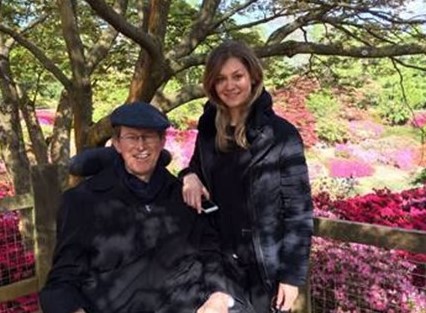 Once tall and strong, my hollowed-out shell of what I was once perceived to be, has brought new labels
07 Jan 2021
Philip Anderson, who has a progressive muscle condition has been coming to White Lodge for 6 years for physiotherapy and fitness sessions. He is a great wordsmith and regularly contributes pieces on the real struggles and perceptions that he faces. We thought we'd share his latest article with you all as we know it resonates with so many across the White Lodge family and beyond.
In Phillips words:
My degenerative illness has changed how I am regarded. Once tall and strong, my hollowed-out shell of what I was once perceived to be, has brought new labels. Patient, disabled, wheelchair user. None of these should define me, or replace who I am.
My prize winning poem, My Body, was stimulated by writing an ARTICLE on how we all struggle, at various points in our lives, to be true to ourselves. I shared how my condition has been an assault on my self-esteem, and wellbeing. Made much harder, by the way people regard me, and engage with me, now I have to use a powered wheelchair.
I have been shocked by the way everything changes when you become a wheelchair user. So many assumptions are made. But it is till me, the same person. As I say, 'If I was a book, the jacket has been removed, or changed. It's still the same book.'
Happily, I am able to laugh at some of the absurdities, and get on with my life, the best I can. Aide by the wonderful team at White Lodge, of course.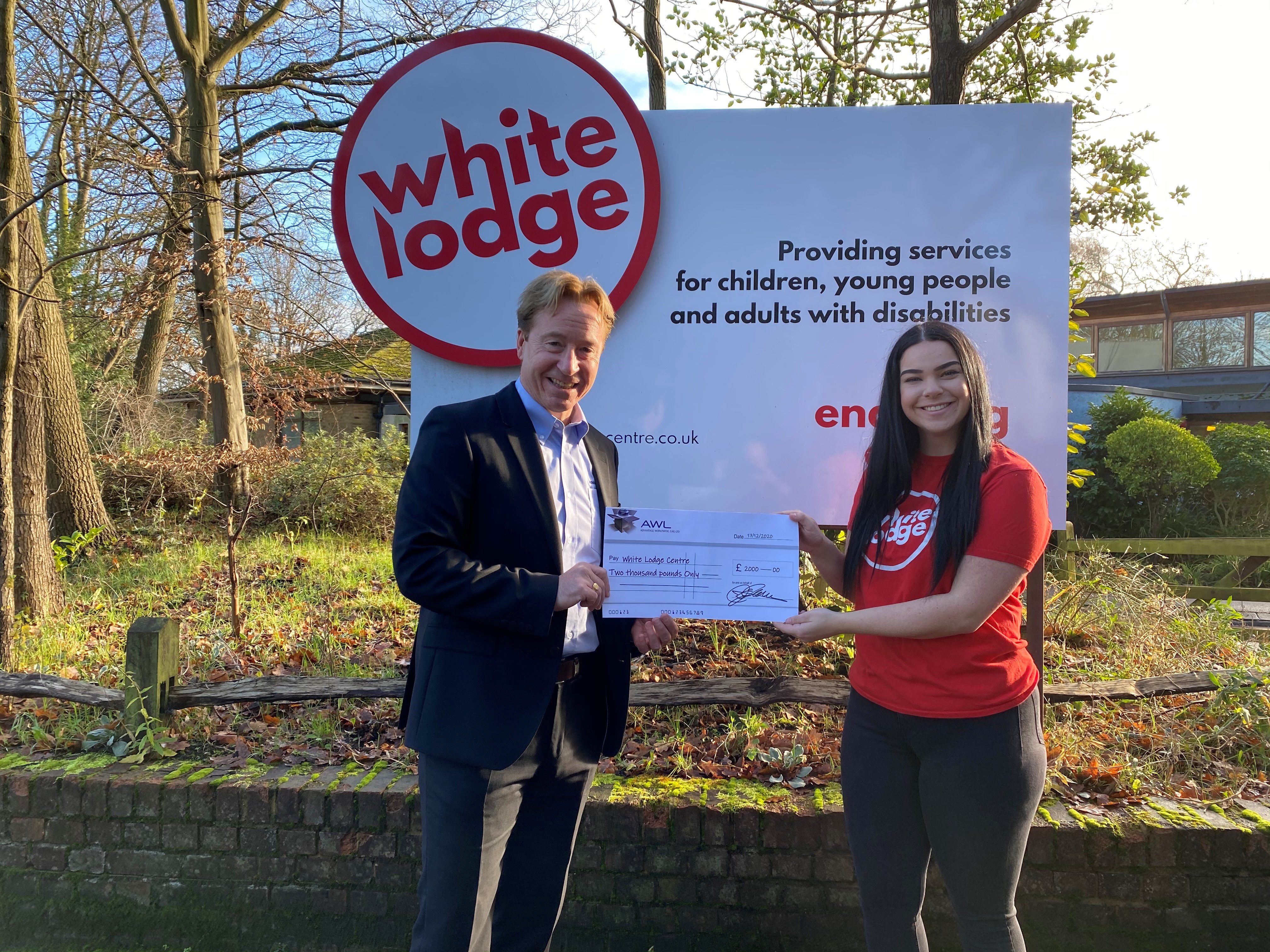 Local company understands the challenges others face and supports White Lodge this Christmas. Thank you Advantage Worldwide!
21 Dec 2020
This is a lovely story to share with you all.
Molly is studying for a social care degree and volunteered at our Play and Youth Clubs to compliment her studies. She is now employed in our Twinks club which is a play group for children with severe Autism. She loves her work and the children at White Lodge and is genuinely motivated and rewarded by the support and help she can give the children and their families.
Her dad David says she comes home buzzing about what she's done and cannot talk highly enough of White Lodge, which made him realise the challenges some people have.
David is Managing Director at Advantage Worldwide, a company which has a long history of wanting to give back to the community and whilst they support one or two national charities he and his colleagues feel compelled to give back locally and White Lodge seemed like the perfect place.
"Advantage Worldwide are a local Company and having seen the work that you do and the specialist care you provide for those not so fortunate, we as a Company decided to make the donation to such a great organisation fully deserving our support, the work you do is truly commendable. With Molly's experiences how could we not support White Lodge."
David came in and presented Molly on behalf of White Lodge a cheque for £2,000 which is just so amazing and will help us support our vital services. And White Lodge will become their charity of the year for 2021.
With such a challenging year for everyone we are all looking forward to 2021 and new partnerships like these that will help keep our vital services running.
Thank you Molly, David and the team at Advantage Worldwide. We wish you all a Merry Christmas!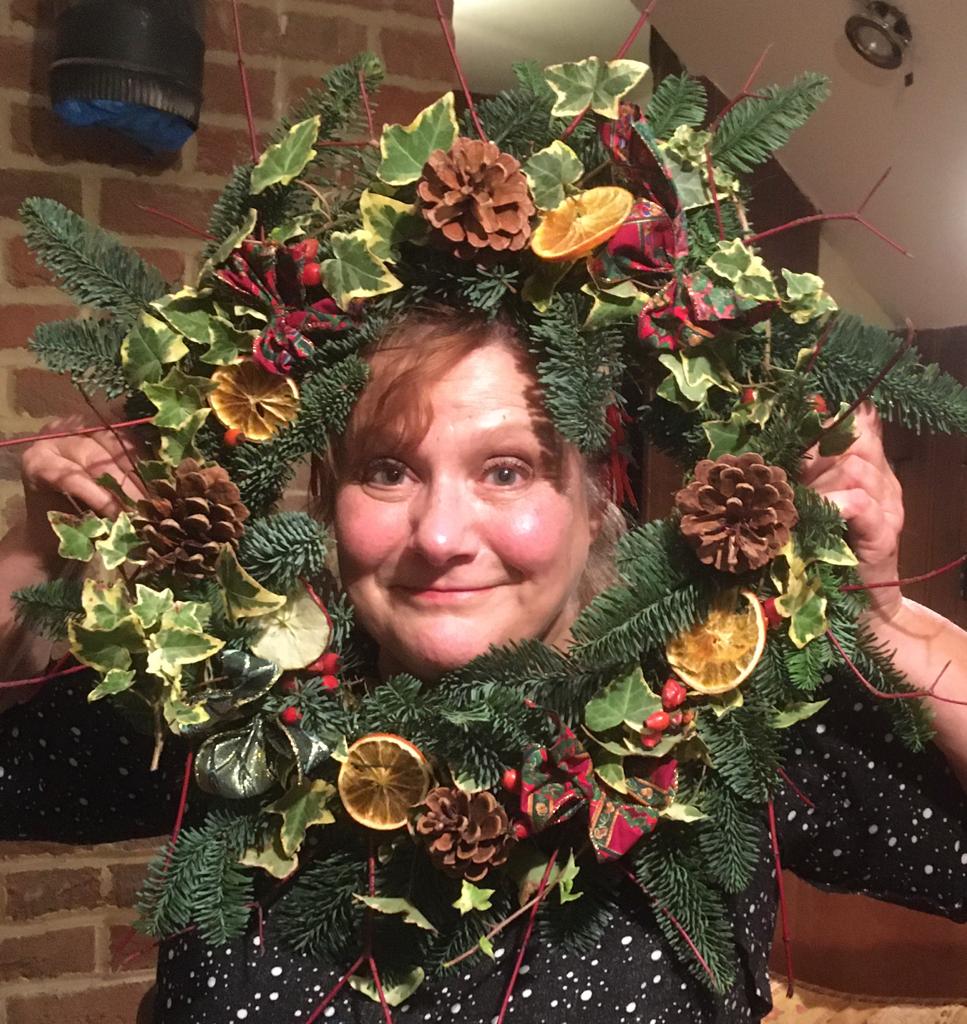 A fantastic night of virtual wreath making!
11 Dec 2020
We all had so much fun earlier this week creating festive wonders in our virtual wreath making night!
Over 30 people zoomed in and created some amazing wreaths to be enjoyed this Christmas.
We raised £1,000 which was then doubled to £2,000 through the Big Give Christmas Challenge which is fantastic!
Just some of the wonderful comments we have received :
Great event such a success and so much fun
So well organised and clear to follow
Fantastic organisation, materials and tuition
Great event and worked really well remotely
Loved it as a positive social experience, especially at a time when social interaction is necessarily limited
The event created lovely memories for our Covid Christmas while helping White Lodge in some small way continue the great work they do
Thanks to the team at Boyes Turner LLP for sponsoring this event and to Julie for her excellent instruction
We would like to extend our thanks to Sita and Julie from Boyes Turner who sponsored and did an amazing demonstration on the night!
We are asking everyone to photograph their wreaths and send to tgallagher@whitelodgecentre.co.uk as our nursery children will judge the best wreath winner!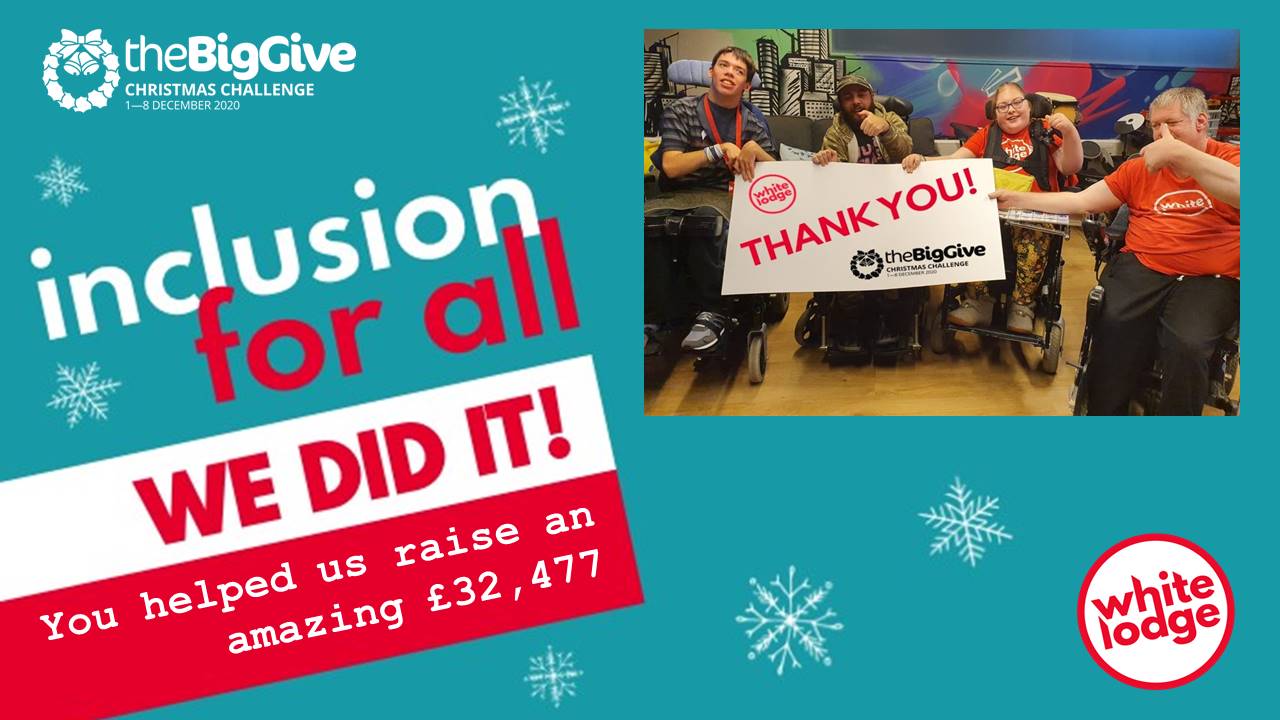 The Big Give Christmas Challenge was a huge success - thank you everyone!
09 Dec 2020
We simply want to say a big thank you for all yoru support in our "Inclusion For All" appeal to help provide services and support for adults with disabilities.
We had seven days to raise £14,000 online which would then be doubled to £28,000 through the Big Give Christmas Challenge, the UKs biggest match funding platform. Well this year we reached our target in three days, and we eventually raised an amazing £32,477!
Just take a look at the good this money will achieve:
£5,000 – 150 one-to-one hours with a Physio Assistant who deliver personalised physio programmess
£10,000 – 450 hours of accessible sport, delivered by a mixture of external and internal providers
£10,000 – 457 hours of creative art in our purpose built art studio dedicated to all abilities
What an amazing way to lead us all into Christmas.
Thanks again and Merry Christmas!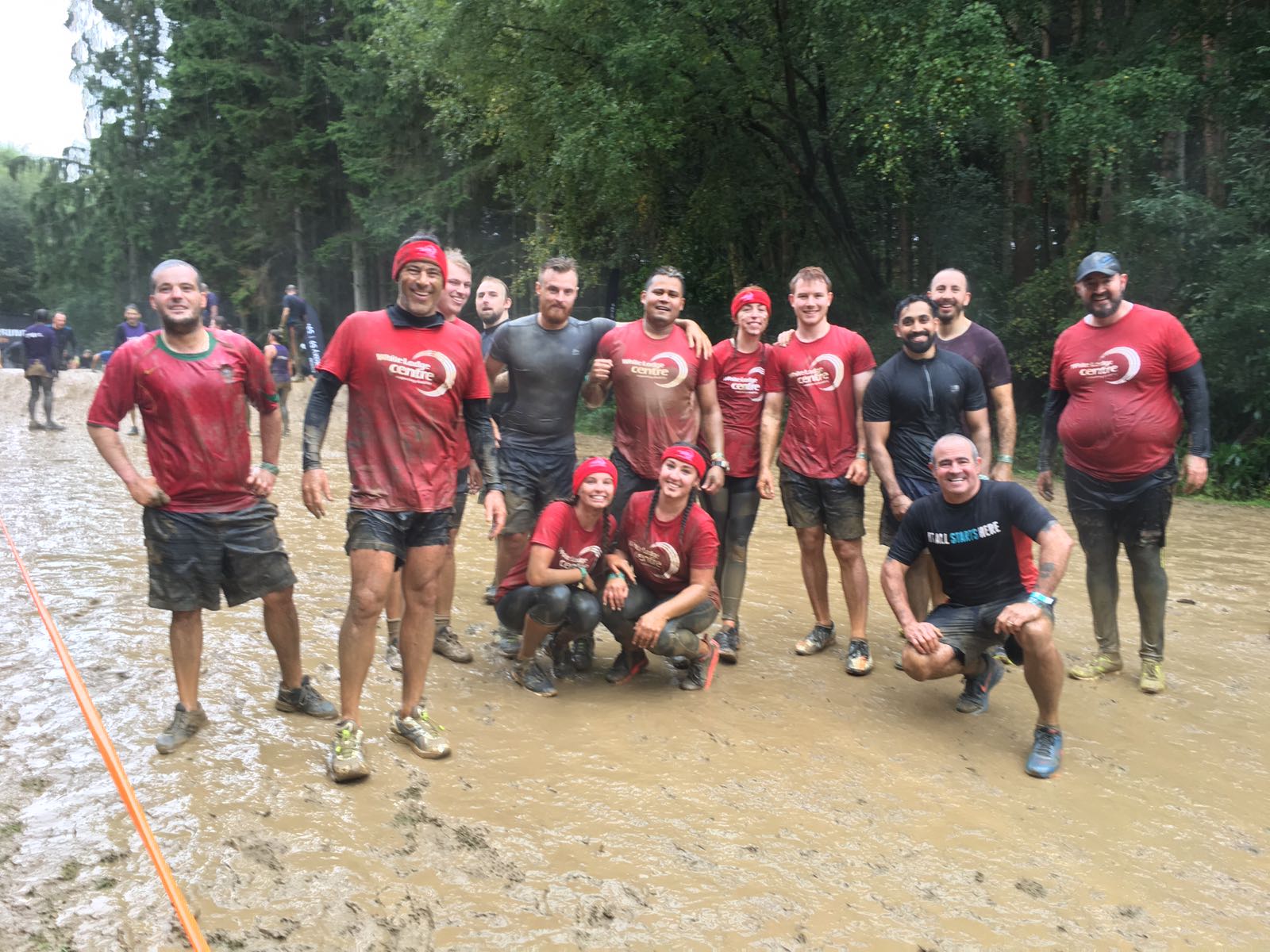 BIG thanks to the team at Gravytrain
16 Nov 2020
We would like to extend our thanks to the team at Gravytrain in Teddington. They have been volunteering their time and helping us over the last year with our digital marketing.
This has been really prevalent during the pandemic where we wanted to raise awareness of our services to even more people who may need us.
"It's been great working with Claire and Mike at White Lodge. The COVID-19 pandemic has been such a struggle for everyone, particularly those with disabilities and their families and carers. We're just happy to help White Lodge, in any way we can, reach those people really in need of their services."
Jonathan Sealy, Gravytrain
Gravytrain have also supported White Lodge in events such as Tough Mudder and are always at the end of the phone when we need a bit of digital advice.
So this is just a BIG thank you from the marketing team and everyone at White lodge for your kind support!