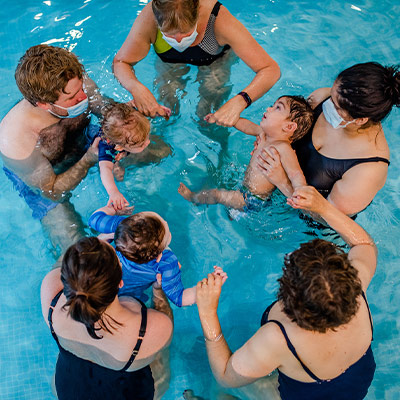 Services and support for children and young people
Within our Pathways building we operate a diverse range of services for children with disabilities, this enables us to offer families a holistic approach to our services. Here is just a snapshot of the facilities available in our Pathways setting.
Nursery
Ofsted rated GOOD nursery that is inclusive to all, enabling children of all abilities to reach their potential.
Open: Monday to Friday 9.30 to 3.30 term time only
Provision: Flexible hours for the 15 hours of free childcare for three to five year olds and some eligible two year olds.
A separate room for children to benefit from more one-to-one support in a peaceful, yet stimulating environment. Plenty of outdoor opportunities for fun in our wonderful gardens and well equipped play areas.
Children's Therapy Rooms
Specially equipped rooms for children with a range of disabilities to benefit from bespoke therapies.
Hydrotherapy Pool
Our pool is accessed by all ages and abilities and is kept at a constant 33-35ºC to help with muscle relaxation and pain reduction. The buoyancy and resistance of the water helps improve stability, lessons pressure and promotes the restoration or maintenance of movement and function.
Sensory Room
A well equipped room designed to stimulate the senses of children through a range of specialist sensory equipment and therapies.
Kitchen
A specialist kitchen adapted for those with disabilities. Here children can participate in baking a range of culinary delights.
Den
A den for children nd young people who access our personal support and transitions services to relax and unwind in.
NHS Child Assessment Hub
This service is accessed through NHS referrals.
Shop
Selling donations of clothes, toys new and nearly new items.
Contact us