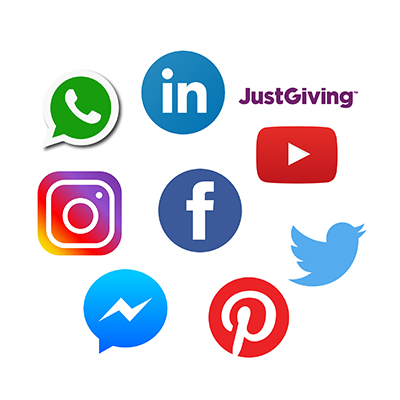 A few tips and advice to help you make the most of your fundraising
Shout about it
Promote your event on social media before it happens and shout about it afterwards!
Remember that the people most likely to donate are your friends, so social media is a great place to start telling people what you are doing and why.
Here are some handy hints to get the most from using social media to promote your fundraising:
Share your JustGiving page on your chosen social media page to spread the word – it's really easy to do if you download the JustGiving app for your phone.
Post photos and videos of your training or any preparation you may be doing for your fundraising event – don't forget to include your JustGiving link!
Include our stapline #enablingability to your posts.
Facebook @WhiteLodgeCentre
Twitter @White_Lodge
Instagram @whitelodgecentre
Pinterest @whitelodgecentre
Linkedin @white-lodge-centre
Advice and Guidance
Ensure that your event is organised efficiently and safely – the Health and Safety Executive has further information on event safety.
If you're selling food, contact the Environmental Health department at your local council office for advice and to obtain any necessary licenses.
Ensure that your event is adequately supervised. Where children are involved, this should include providing adult supervision. You will need to carry out appropriate background checks if adults are to have unsupervised access to children.
Consider what insurance cover you need for your event.
Check with your local council whether you need any special licences, e.g. a public entertainment licence or a licence to sell alcohol.
Always have two people present to count any money raised.
Raffles
There are strict laws relating to raffles. You can obtain comprehensive guidelines from your local authority we recommend these are followed in full. If you are still unclear of the guidelines, please do give us a call. Please visit the Gambling Commission website for more information.
Public collections
All street collections need to be registered with your local authority and a licence obtained. Please contact your local council for further information. If you are planning a collection at a train station, supermarket or a similar place, please contact the manager of the premises to gain permission to collect. Under 16s (18s in London) are not permitted to collect money through public collections. They can be present at collections, but cannot hold a collection bucket or can. If you would like to borrow collection buckets or cans, please do get in touch with the fundraising team on 01932 567131
Liability
White Lodge cannot accept any responsibility for your event, nor for anyone who participates in it.
Contact us