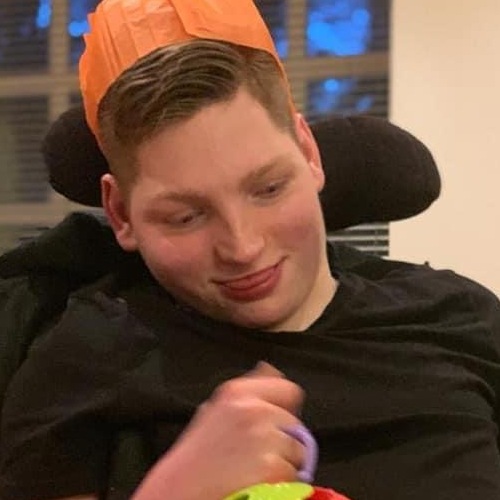 "Brandan is an extremely happy boy and will light up everyones life who comes in to it!"
Brandan is 21 and lives with his mum, dad, brother and his dog Perdie. He has Angelman Syndrome, epilepsy, coloboma, complex needs, no mobility and is dependant upon other people for support. He came to White Lodge as a baby for physiotherapy and occupational therapy. He has also receivied respite care and participated in our Saturday clubs. He is now a member of our Pulse Club which he attends 2-3 days every week and he absolutely loves it!!
"Brandan and our family could not be without Pulse who have supported him throughout this awful pandemic. Brandan has made some great friends both with other service users and the lovely caring staff. If it wasn't for Pulse supporting him during Lockdown Brandan would have become extremely anxious and frustrated. This would of had an impact on the whole family. White Lodge simply changes lives.
The staff and the support they provide, nothing is to much trouble, they will do anything to ensure Brandan has as much fun as he can, he loves playing with his friends and cooking!
White Lodge Adult services provides Brandan with the support, care and fun he needs to develop. It also allows him to have some routine in his day, he smiles as soon as he leaves home and he is extremely happy when he comes home."
(Andrea, Brandans mum)
The future for Brandan is looking positive as he has now been fully vaccinated and looks forward to his days at Pulse where he will be kept engaged and fully entertained. White Lodge changes lives. Please help support this vital appeal!