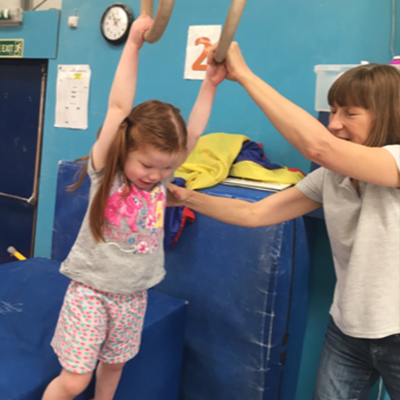 "Do not underestimate the strength of a child with cerebral palsy"
The above is a direct quote from Darcey's mum and it's testament to Darcey and so many other children who come to White Lodge. Darcey suffered from a neonatal stroke which wasn't found out until she was two weeks old. She wasn't breathing when she was born and had to be resuscitated more than once and sadly also suffered from a seizure. This resulted in Darcey having cerebral palsy affecting her left side which is called hemiplegia.Darcey faces many challenges due to having little movement in her left hand and arm, so her day to day life can be a challenge. Luckily her GP referred her to White Lodge in October 2018 when Darcey was three. Here she received physio therapy, occupational therapy and speech and language therapy and orthotics. Darcey received her first AFO splint with White Lodge.
Her Mum describes her experience with White Lodge below.
"White Lodge staff were brilliant with Darcey, they took their time to get to know her and were amazing with her. I feel the staff went above and beyond for Darcey in every aspect of the service she was receiving. It was nice for her to have a place that was for "her" she met lots of other children like her. Myself and Darcey looked forward to coming in each week she also got to ride horses through the RDA which helped with bringing her left arm forward and also helped her core muscles and posture. Darcey also was introduced to hydro therapy! She absolutely loved these sessions and even sometimes cried when we had to get out the pool"
"Before Darcey started at White Lodge she didn't speak much mainly one words but after receiving speech and language she is now chatting away to everyone and any one. I feel my daughter was really blessed being able to come to White Lodge and have these amazing people in her life!
"It's quite scary to think about life without White Lodge because the changes that happened were amazing and Darcey wouldn't be progressing so much and doing what she is doing If she didn't have the lovely ladies she did to support her. The amazing team at White Lodge helped Darcey in so many ways and have had a massive impact on Darcey's life! "
Darcey is now at main stream school with an EHCP which gives here 1-1 support. She is progressing well in her speech and movements. Even though she has her challenges she does not let this stop her! Darcey is one of the happiest little girls around and is always smiling. White Lodge is proud of you Darcey!