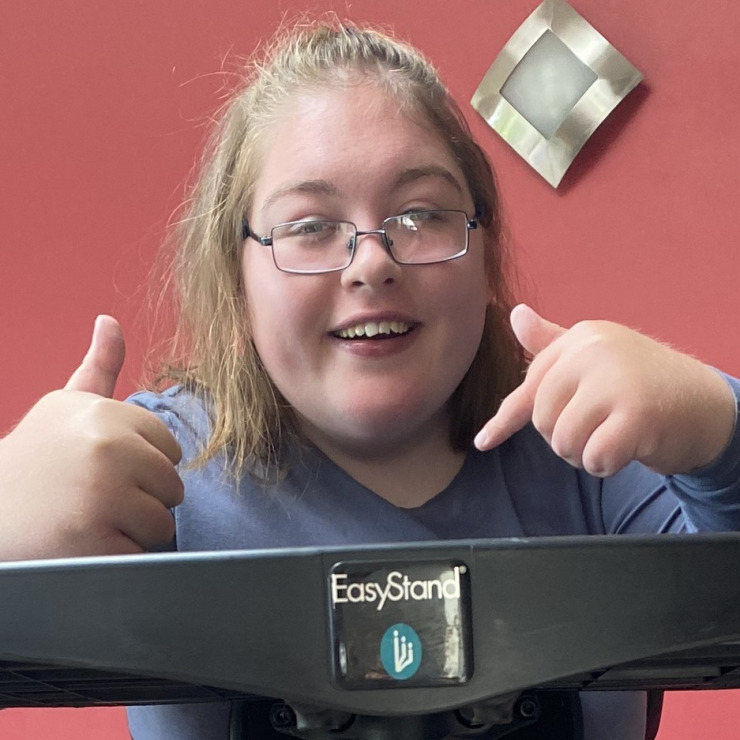 "White Lodge offers Kate a chance to shine"
Kate has Quadriplegic Cerebral Palsy, Autism, Low Mood Syndrome and associated issues including moderate learning difficulties. She has been coming to White Lodge for three years since leaving Treloars College and loves the services in Rendezvous, the adult centre. Kate requires 1:1 full time care.
She has four other siblings and four dogs! According to her Mum she is the happiest, smiliest and caring of all of them.
Kate loves to be as independent as possible and loves being with her friends doing activities. She has made lots of new friends at White Lodge and as she is a young adult, aged just 24 she loves our Pulse Club which offers loads of fun social opportunities and life skills.
"White Lodge is such a fabulous place that fully caters for all of Kates needs. It is properly and fully equipped and access for everything has been thought though. Kate attends with her PA, Jana. When she comes to White Lodge I know she is safe and occupied with her friends doing fun things. White Lodge is such a valuable service as our borough struggles to provide anything like White Lodge. The activities change and the staff are so great with the young adults that attend. It's a fun environment and Sarah does a great job of running the ship! It offers so many services, hydro pool and sensory room too! All the equipment is installed so changing Kate and hoisting isn't a problem."
"We're not sure about the future for Kate. We try to take each week as it comes. Kate lives at home full time and so services like White Lodge are essential for Kate's welfare. Finding places to go with Kate is really difficult because of her needs. White Lodge offers Kate 'a chance to shine!'"
Andrea (Kates Mum)
Change a life now.