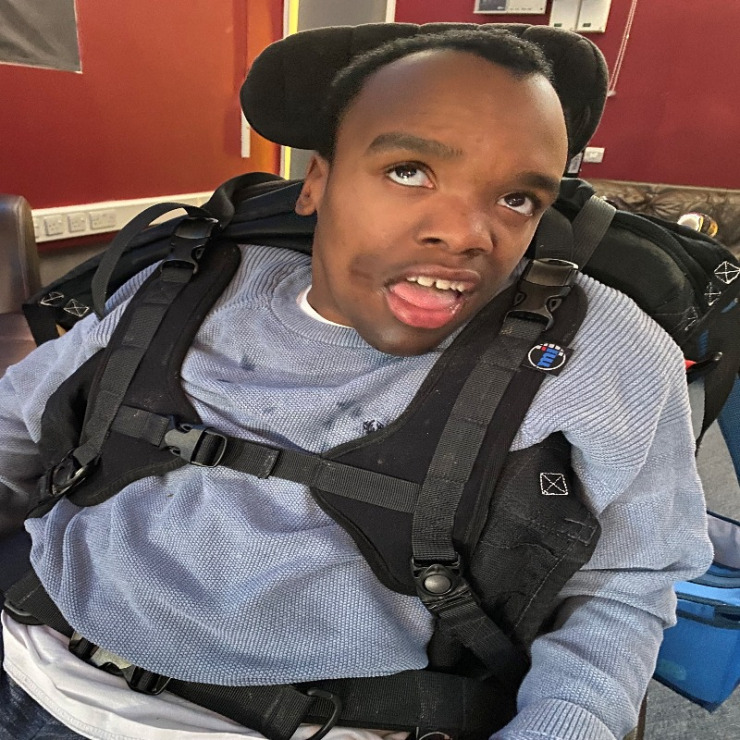 "Despite his challenges, Lase is always so happy, he literally wakes up giggling."
Lase is 19 years old and has been coming to White Lodge since he was one years old.
Lase and his twin brother David were born 15 weeks early. At just two days old Lase experienced a bleed on the brain which resulted in him later being diagnosed with Cerebral Palsy. He came to White Lodge for Physiotherapy and our specialist nursery. His Mum said that it was at White Lodge that she felt she discovered Lases personality and they brought it out of him.
"Despite his challenges Lase is always so happy, he literally wakes up giggling. White Lodge played an enormous part in his early years and this is where they simply changed his life and enabled him to live a happy and fulfilling life. They also helped me to realise that Lase did have a future and it could be rewarding. Lase was confused in lockdown as his normal routine was taken away and it was such a challenging time for him and his family. So, it was such a relief to know that he could start to attend Pulse in September and he hasn't looked back"
Lases Mum
Lase now attends our Pulse Club every day. This is a youth club that is specifically tailored for 18-25-year olds. Turning 18 is a daunting time for anyone as you are suddenly reach adulthood, but for people with a disability it's even more challenging as a lot of the services and support disappear. That's where White Lodge have stepped in again. At Pulse Lase gets to socialise with his friends and do a range of activities in the funky Pulse den.
"Lase comes to us smiling and leaves smiling. He is a really popular member of the group and just loves the activities. He loves his music, especially Motown and Soul and grooves away. We love having him here as he is so positive and happy!"
Sarah, Rendezvous Coordinator
White Lodge has quite simply changed Lases life, but also mine and his brothers as all we want is for him to be happy and he is so happy at White Lodge, I can't thank them enough for what they have done"
Lases Mum