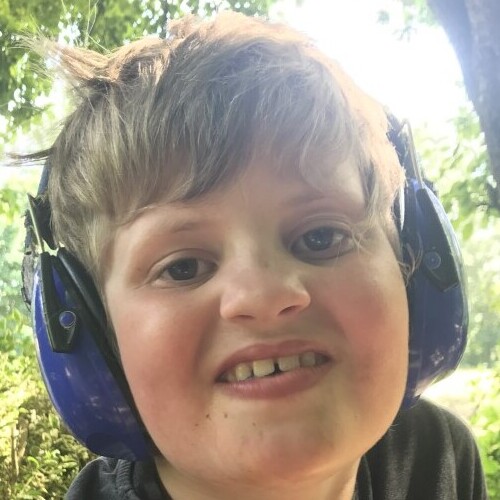 "Toby's disability makes it hard for him to attend the extra-curricular clubs, sleepovers and play dates that are part-and-parcel of most children's lives. Enter White Lodge!"
Toby is ten years old and has been coming to the playschemes at White Lodge (WL) for five years. He has a severe learning disability, plus ASD and ADHD, caused by a genetic disorder.
His mum Christy tells how White Lodge has changed not only Toby's life but also that of the whole family.
"Toby is a much-loved member of our family. He is a very lively character with a great sense of humour, and he loves exercise. However, our main challenge is that, because of Toby's genetic disorder, he requires a high level of care. He finds it hard to sit still or concentrate on a task like other children his own age and his impulsiveness and need for sensory stimulation mean that my husband or I need to be actively looking after him all the time, which has a massive impact on the whole family.
Most parents are able to drop their kids at an extra-curricular club or a party and have a quick, much-needed coffee and a breather while their kids play. But for us, we rarely have that breathing space. Having Toby at home so much of the time can be difficult for our other children, too. Our older son needs some peace and quiet for studying, now he's at secondary school, and Toby is rarely quiet! Our younger daughter also needs some of our dedicated time for doing activities like cooking, chatting and reading a story.
That's where White Lodge comes in. When Toby goes to their playschemes, we are so reassured and know that he will have a great time. He does the activities he loves – swimming, cooking, playing – and has the chance to interact with his friends, in the way that neurotypical children his age do. The fact that we can take Toby to White Lodge and leave him with friends to do activities is just amazing and life changing for him and for us. It's giving him the chance to do the sort of activities that neurotypical children his age take for granted.
And for my husband, myself and our other children, it's a chance to have some quiet time to do whatever is difficult to do when Toby is around.
Toby is challenging to look after. We can't use regular babysitters and it's hard to do childcare swaps with other families because he needs specialist care, so WL is becoming a lifeline for us. And I should say that WL really did all that was possible for us during COVID. WL was the first of the special needs playschemes to start running face-to-face sessions again and they kept in touch with us even when they weren't running. It meant a lot for us to know that WL was there in spirit and, as soon as they were safely able to, in person, too.
Anyone who donates to their 'Change a Life' appeal will be offering children and adult with disabilities the chance to take part in the activities that other children and adults their age take for granted. Saturday morning football, after-school ballet, music lessons, parties where kids are dropped off and guests' parents don't attend…these form a regular part of many children's lives, but are often not available for children like Toby. A donation to White Lodge will help children like Toby to experience some of the activities that part and parcel of so many children's lives."
Change a life now.